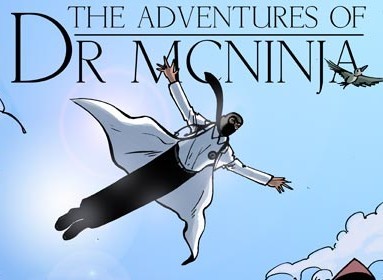 I happened upon this webcomic, and almost immediately cracked up. Also, these are selected issues since I have lost the drive to be maddeningly specific.
The first, Issue One Half, details McNinja taking back his name from Ronald McBonald, whom made a habit of taking anyone's name he chose to sell burgers. There are many funny moments, but the couple which stick out is when McNinja hides in a ball pit and the other being when he's facing off with McBonald and mime-fighting. I'm hooked.
Meet the Dr. and His Friendly Staff introduces Judy the Gorilla, when a mother and son go off in search of a doctor, due to the boy's projectile vomiting and learning he has Paul Bunyan's Disease. Dr. McNinja ends up locating the cure with more hilarity acquiring the concoction. I seriously love this series now.
So What IS a McNinja? shows our hero goes into a freezing cave after being surprised by a Viper Security System, and defends himself against another ninja, whom he has a personal connection. Again, with the laughing, "Shank, shank, shank…!". It only gets better from there, the two entering what looks like the typical family home, nestled in the back of a cave where another ninja is found with a hole in his mask for his mustache to breathe. (Also, I didn't put together why some reviews mentioned the Alt-Text. I get it now. Definitely brings another spectrum of awesome laugh-time.) It's also told of how ninjas aren't born with their ninja names, a ninja called Sean being evidence of this with his own choosing of a new name. After which, is shared the origins of the McNinja clan which involves their crossing to America from Ireland, and the way they discovered their talents through sharp shamrocks. McNinja then runs into a pirate in a bar and gets advice on how to have his family come to terms with his being a doctor. McNinja then has his limits tested upon having to go on a rescue mission. Another good one and quite satisfying.
There is a Raptor in my Office is pretty self explanatory, but becomes more ridiculous when McNinja goes in search of information regarding the other victims of the raptor, and learning there may be a crime syndicate using raptors as their get-away vehicles. The story, of course becomes more convoluted once realizing the "banditos" who are committing these crimes are doing so for love. A revisit to McBonald being made a bit later on, he not escaping the clutches of McNinja and divulging the address to where he kept the McNinja burgers to find the man with the organically-powered fart jet-pack. The story ends a bit openly, but introduces Gordito, one funny looking kid.
Revenge of the Hundred Dead Ninja In short, zombies are worth it. Madness and hilarity!
Monster Mart is where I took my Title image from and it begins like a super-hero film. We get a college flashback which shows McNinja a part of a Watchmen-similar power team and it sticks with the hwitty comedy I've come to love.
Death Volley – Ok, real simple. Beavers, Zelda-like dungeons, tennis, Gordito taking down a wispy, dark villain with Judy, sort of kind of cliff-hanger (hwhaaaaat?!) = hilarity.
These stories stay fairly episodic and is one helluva wild ride, not dulled by the many pop culture references. If they ever did turn it into a show, I'd watch it. Until then, I'll be keeping a look out for Christopher Hastings' work.