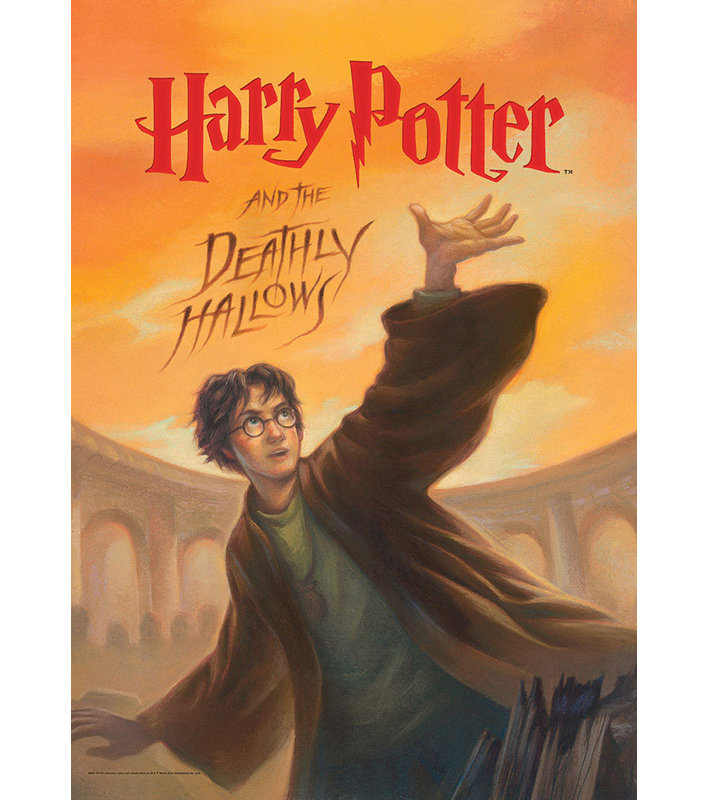 Snape joins Voldemort with the other Death Eaters at Malfoy's home to discuss Harry's next move, false news having been created to mask Harry's actual plan. Lucius has gotten out of prison by this point and had to relinquish his wand to Voldemort to use on Harry (an even more unnecessary "that" being added to a sentence, Rowling? Jeez..). A professor of Muggle studies is killed after Voldemort seethes and makes fun of the Malfoys' relative, Tonks marrying Lupin.
Harry was currently at Privet drive unloading his school trunk and packing a backpack with all important items. He also has 2 articles, one Dumbledore's obituary and the other an interview with Rita Skeeter about her biography on Dumbledore's life and how dirt-filled it truly was. Vernon was flip-flopping with whether he truly believed he and his family were in danger, but Dudley was scared enough to want the magical protection offered them, so they'd be escorted to a safe spot. Dudley surprises all relatives with his concerns for where Harry was going, but everyone's farewell being fairly underwhelming, but Dudley shaking his hand in the end being the most contact made through it all.
Moody was whom Harry thought would be escorting him, but it turns out to be Hagrid along with his buddies and others, including Mood himself. This doesn't help much though, since they were met with 30-odd Death Eaters flinging deadly curses at all of them, Harry being repeatedly reassured by Hagrid of having everything handled, thusly Harry's sidecar detaches from the motor-bike and during all this, Hedwig has been shot and was limp. Harry blows up his sidecar, supposedly with Hedwig still inside, he now seated with Hagrid as a Death Eater recognizes Harry to be not a poser, the 3 disappearing. Voldemort soon joins them, but not before Harry crashes the bike into a pond. The 2 make it to their Portkey to the Burrow and the only others to show up so far is Lupin and George, whom lost an ear. In the end, everyone returns except for a dead Moody and a biffed off Mundungus.
Harry wanted to leave them for fear of endangering them further, he getting a vision of Ollivander at the bad end of Voldemort's rage, Hermione desperate he attempt to shut his mind from this. Mrs. Weasley attempts to learn what Dumbledore had ordered Harry to do, which also includes Ron and Hermione dropping out of school to help, but the most she gets is agreement to help tidy and do chores she had for them for the wedding. They weren't able to recover Moody's body, so the funeral was on hiatus. The trio found time to talk, Ron suspecting Moody may have survived. They then discuss Hermione's acquiring Hogwarts library books on horcruxes, when Mrs. Weasley interrupts, mega-pissed the three were sitting around rather than helping her with chores. When Fleur's family arrives, the trio get only one chance to speak, Mrs. Weasley still thwarting their plan-making and she putting together, what Harry hopes would be a quiet birthday the day before Fleur and Bill's wedding.
Harry gets a good amount of birthday prezzies, he particularly taken with Ginny's snog gift. Scrimgeour crashes to speak with the trio about Dumbledore's will and the unique items he'd left them. Harry receives his first won snitch and was supposed to get Gryffindor's sword, Hermione got a book, and Ron was gifted a contraption which put out lights. Harry figures out a clue on how to use the snitches memory ability, but it isn't easy to decipher from there, Hermione confesses she not having heard of the book she'd be given, to Ron's surprise, since he knew them as children's tales.
Harry was disguised as a cousin to the Weasley's after they'd acquired some hair from a local redheaded boy. Luna and her father had been invited, he acting and looking as eccentric as his daughter normally would. Then, after Harry discovers Dumbledore's family had Godric's Hollow in common with him, they discover Scrimgeour had been killed and the Ministry "fallen", them's coming. (Decent dramatics by this point)
The trio escape by disapparating as Death Eaters break up the party, Hermione providing the boys with less conspicuous attire. They are followed and eventually attacked again by a couple Death Eaters. After the trio defend themselves and flee to Harry's inherited property, he gets a vision of Voldemort punishing one of the Death Eaters who had attacked them, by ordering Draco to torture him.
They learn R.A.B. was Sirius' brother after Harry discovers a part of a letter from his mother. They also realize they'd handled a locket during past clean up of Sirius' home, they off to Kreacher's quarters. They discover nothing and when Harry summons Kreacher to grill him, they learn Mundungus had filched it all. Kreacher relates what he remembered of the locket, then Harry nicely orders him to retrieve the real locket and Mundungus to meet them back there, taking a tip from Hermione and even gifting the fake locket to Kreacher as incentive and appreciation.
The 3 are up to day 3 of waiting for Kreacher's return when they see 2 robed men standing outside for quite some time, but not going any further, everyone inside attempting to quell nerves and boredom. Harry is first to see a figure enter the house, it t'were Lupin, they catching up. By the end, Harry had insulted Lupin in order for him to hopefully go back to Tonks, they learning she was up the duff and he was plagued by his status and how it'd effect his newly made family. Harry then reads an excerpt from Skeeter's book after Lupin runs off, pissed. Kreacher returns with Mundungus, whom reveals he'd practically gifted the locket to Umbridge.
Harry brings back a Daily Prophet with news of Snape securing the title of headmaster, Ron and Hermione shocked. Harry then renews his idea of implementing the plan they'd worked out for 4 weeks. They each obtain a Ministry employees hair and polyjuice themselves for entrance purposes. Hermione and Harry meet Umbridge in the elevator after Ron was tasked with stopping a flood in a particular office. Harry is then separated from Hermione when Umbridge uses her for a court proceeding and he's left with the new Ministry of Magic, Thicknesse, not being conspicuous and parting ways with him before covering himself with invisibility cloak again and creating a distraction which allowed him access inside Umbridge's office, he not having learned from his Hogwarts snooping to leave his cloak ON when he's searching, again scrambling to cover his ass up as Thicknesse enters.
Harry makes his way out with no discovery before learning what they had on Arthur. He makes his way to the courtrooms where a shit ton of dementors were chilling in the hall with the accused muggles, he making it inside the courtroom Hermione sat in with Umbridge, they seeing the locket around Umbridge's fat neck. Harry throws caution to the dogs and stupefies the old hound so as to snatch the locket, Hermione making a replica so she wouldn't immediately notice, and saves the half blood witch on trial for being muggle-related. The trio along with the muggle bunch escape, but Harry notices an odd sensation after they apparate since by the end it was becoming obvious what they were doing.
Hermione conducts first aid on Ron's arm, they now stuck in the forest where the World Cup had been, Yaxley having seen the trio's hidey hole she setting protective charms about them whilst Ron recovered. They then fool around with the locket to attempt opening it, none succeeding and so Harry resigns himself to keep watch with Hermione off and on. Harry gets another vision, he still having given up Occlumency despite Hermione harping on how he should still at least attempt to bar him mind and instead chooses to get pounded by the scenes, he rather preferring sharing the visions with his buds (he's tho thmart!), overcome with whomever stole an item from Gregorovitch which Voldemort was now after, Harry recognizing the face in his memory, but unable to currently place it. (This seems to be a going theme and mystery style of Rowling's, which I've grown tired and yet accustomed, *sigh*)
During their passed off time wearing the horcrux and negative moods because of it, they hear Dean Thomas with Tonks' pops and some goblins (Rowling, you suggesting a Goblin language be named, Gobbledegook??…) eating nearby their camp, learning Ginny had attempted to lift Gryffindor's sword, the goblins confiding the one protected in Gringotts being a fake. Ginny did get one helluva punishment, though, according to the goblin, they also discussing whether Snape or Harry was the baddie, as well as The Quibbler now being the one spot for real news. They move off and Hermione grabs the frame of Phineas Black to inquire about the sword, which reveals why they needed it to destroy horcruxes. They end the night with a blow out of a fight between Ron and Harry, the former off to his family and Hermione brokenhearted by Ron making her stay seem like betrayal of him.
The two hoped silently Ron'd return, but this doesn't occur, Harry reminded how Ron had assumed Harry had a ginormous master plan (the fuck?), and he seeing if Ron'd go to Hogwarts again, his name not appearing on the Marauder's Map. After some more move-abouts, Harry suggests once more they go to Godric's Hollow, Hermione agreeing this time. They prepare with Polyjuice disguises and see the graveyard first. They visit Dumbledore's family graves, Hermione locating another symbol on an unrelated grave, and they take a moment to visit Harry's parents, leaving with Harry at least getting to see where they were.
After suspecting they were being watched, the quickly leave and somehow spot Harry's first home. Bagshot finds them and leads them back to her place, he nicking a pic of the man whom had stolen from Gregorovitch and then Bagshot becoming Nagini before Voldemort was to arrive. The two barely escape, but Harry's wand is broken and loses the pic in their haste, Harry stuck in Voldemort's thoughts most of the night.
Harry was starting to annoy himself at Dumbledore, rather than try solving the snitch and discover his next move. Hermione helps a bit by showing a copy of Rita's book to Harry, he finally learning the man in the picture was Grindelwald. He and Dumbledore became buddies after he'd been expelled from Durmstrang. Harry has a flip out and Hermione recognizes he being mad Dumbledore hadn't shared more with him. After they move, Harry sees a doe patronus which leads him to the Gryffindor sword, Ron saving him from drowning and Harry suggesting he destroy the horcrux. It gives Ron a good psychological beating, but he succeeds. Hermione gives Ron a more unceremonious welcome, but they settle after Ron explains how he'd used his deluminator. Since he'd also been able to swipe an idiot's wand from a watch group for muggles, Harry was able to practice doing small spells, the results unappealing. Later on, Hermione decides she wanted to visit Luna's father because of Grindelwald's sign, Harry uncertain, but acquiescing, and upon being received, are greeted hesitantly. When Harry does finally get to his point, Luna's papa reveals it's a sign of the deathly hallows. Harry soon blunders to the knowledge Luna wasn't there and her pop had informed the Ministry, Hermione devising and implementing the trio's escape plan.
When they'd disapparated, Ron supposed the Death Eaters had Luna in Azkaban, but she'd be fine for now. Harry then considers if his defense would include the acquirement of the magical items of the Deathly Hallows. Ron and Hermione think he should focus on the horcruxes, but instead he dedicates his time in attempting to open the snitch, thinking the stone or ring could be inside. The one thing to get his thoughts away from this is Ron's found pirate radio stating, they learning Ted Tonks was among the murdered by Death Eater recently. (Rowling's way of allowing each character intro whom is speaking on the radio is goofy.) Hagrid was now an outlaw, as well, because of a Potter Party, the doofus, and the last dumb move Harry making being to say Voldemort's name, they found out hella quick.
The trio are captured with Dean Thomas, Hermione having puffed Harry's face up, Greyback and crew unable to identify them, yet, until discovering Gryffindor's sword, they deducing Harry and Hermione's identities. When Bellatrix sees the sword, she tortures Hermione on where they'd gotten it, thinking they'd stolen it from Gringotts. Meanwhile, Dobby apparates and saves Ollivander, Luna, and Dean, this getting attention, Ron and Hermione having to overpower Wormtail, but this ultimately killing him. Voldemort is finally summoned once the goblin confirms the sword counterfeit, Ron attempting and failing to save Hermione, but not being quick enough to dodge a knife and get kilt.
They have a quick burial and funeral for him in the garden of Bill and Fleur's, Harry then speaking to the Gringotts goblin and Ollivander before Harry sees Voldemort claim the Elder wand Dumbledore had been buried with. Harry was torn by his decision to hang back rather than fight, in the meantime the goblin agreeing to help them in return for Gryffindor's sword, Harry not specifying when, but would do the exchange. Lupin visits to announce Tonks and his son, Ted being born, and Bill warning Harry about dealings with a goblin being a sensitive thing if treasure is involved.
Hermione had been chosen to Polyjuice as Bellatrix what with having a hair of hers on her robe and also having the wand, but she having trouble controlling it. They still go through with their plan, Harry under invisible cloak with goblin and Ron disguised with face-feature changes, they running into Travers in Diagon Alley. It only gets worse from here, since he's also going to Gringotts and it seemed the goblins were aware of Bellatrix's stolen wand. They make it to the vault without being caught, though, instead now had to worry about making the contact with the treasure. This soon doesn't matter, since it ends with all of them in contact with it, but Harry obtains the cup, but loses the sword, they escaping on the nearly blind dragon (yay!) and landing themselves in a lake some distance from the bank. Harry soon sees the results of Voldemort learning of Gringotts and his questioning whether his other horcruxes were safe; The trio soon aiming for Hogsmeade.
Upon arrival, they're immediately known to be there due to a nifty alarm charm, Death Eaters looking around and almost catching them early upon arrival. After dementors are added to the search party, the Hogshead's owner saves them by letter them inside the bar. Harry figures out he's Aberforth, he feeding them and attempting to convince Harry to get far away as possible. Instead, he's convinced somehow into detailing most of what'd happened to Ariana. She'd killed their mother accidentally after being abused by some boys in some way to make her ever use magic, it going wild within her and when she was 14, had an unfortunate episode resulting her mother's death.
Aberforth was made to continue school by Dumbledore, he taking care of their sister until Grindelwald distracts him. Aberforth confronts Dumbledore about containing his ego in order to take of their sister rather than go off and gather a following in their new wizarding regime. The 3 end up fighting, Ariana attempts to help and 1 of the 3 kill her. Harry puts in his 2 cents when he mentions the horcrux charm he'd drank, the torture making him say when he felt worst about and his greatest fear, Neville then being brought when Aberforth acquiesces to helping them enter Hogwarts.
They go through a hidden tunnel behind Aberforth's painting of his sister. Neville catches them up a bit on Snape's disciplinary Carrows Death Eater professors, he also finally gets positive feedback form his Gran once she escapes and goes to ground so as to stay hidden, since escaping the Death Eaters' attempts at using her as leverage on Neville. When they reach Hogwarts about 20 more peeps greet them uproariously. They'd made the Room of Requirement their safe haven, the Carrows unable to reach them. They were catching up when Harry learns Voldemort had discovered another horcrux destroyed, the group of kids desperate to be a part of helping overcome Voldemort, but Harry attempting to keep Dumbledore's secret, Ron and Hermione then considering they could use their friends' help without revealing the true nature of why, so Harry begins asking them questions about Ravenclaw items.
In the end, Luna leads Harry to the Ravenclaw statue where one of the Carrows catches him, touching her V (haha) tat. She's knocked out by Luna's curse, Harry then cursing her bro when he insults McGonagall. She then helps the two game plan the way to get students out of the castle and overthrow Snape before Voldemort comes, and Harry could search the grounds. Snape gets in McGonagall's way, but flees by chucking himself out a window when she receives help from other professors. They soon are enlisting the help of other professors to protect the school temporarily from Voldemort, whilst getting everyone to meet in the Great Hall to give those the option to stay and help who were of age. Upon Harry getting back to the Req. Room, most of the Weasleys arrive, they surprised when Percy shows up as they're trying to get Ginny to leave, but instead agreed to let her stay in the Req. Room, Voldemort now at Hogwarts as Harry's looking for Hermione and Ron in the loo.
As McGonagall describes what would happen, Voldemort's voice echoes through the hall to maintain resisting wouldn't do any good and he didn't desire offing anyone, he only wanted Harry. Since Voldemort wasn't actually there, after dumb Pansy attempts to get Harry chucked out, McGonagall has them all leave with their Houses, she having to remind Harry of looking for the horcrux, since he'd been plagued with where Hermione and Ron could be. He comes to a lightbulb moment though, on whom to ask what had happened to the diadem, getting his answer through Nearly Headless Nick, he speaking with the Ravenclaw's House ghost, Helen Ravenclaw, she stealing the diadem from her mother and how the Bloody Baron had killed himself because he'd stabbed and killed her.
Finally, she admits hiding the diadem in Albania, and Voldemort had brought it back to Hogwarts when he'd interviewed for a job. Harry is met by Hagrid (I realize now Harry could've been using "Tom" as his choice to call him the whole time to mock his name for himself, in a way, as Dumbledore had.), the fight being on by this point, since it'd reached midnight. Harry realizes where he needed to go, also spotting Ron and Hermione who'd gone to the Chamber of Secrets, Ron speaking Parseltongue by memory and stabbing the Cup, Harry ecstatic. Ron and Hermione give each other a good snog until Harry thrusts them back to Erf. They have the Room of Requirement become the place with everyone's hidden treasures, Harry locating the diadem, but foiled by Malfoy, Crabbe, and Goyle.
Crabbe curses the place with a fire monsters thingy and Ron and Hermione have to save the 2 burkes, Crabbe getting himself kilt, but Harry also catching the diadem as it'd been falling down from a victory throw of treasure by the creatures. When they escape, Harry sees the diadem crumble, since the fire had been cursed and fortunately did the trick in destroying the horcrux. Then, as the twins and Percy are fighting Death Eaters in the hall they'd come in from, an explosion kills Fred. Harry helps Percy stow him, everyone then continuing fighting Death Eaters except for the trio, Harry looking into Voldemort's mind upon Hermione's request. He sees Voldemort chilling, knowing Harry'd pursue him for Nagini, he commanding Malfoy's Pops to get Snape.
The trio use the invisibility cloak due to how many faculty and students were fighting Death Eaters, Hagrid getting swept away with giant spiders as his bro searches for him at the castle windows. They retreat toward the forest, Harry too desperate by the dementors approaching to summon his patronus. Luna and 2 others save their asses and they reach the Whomping Tree where they'd get to the Shrieking Shack, Harry overhearing Snape speaking with Voldemort about the uprise and the Elder wand not impressing him like he expected. He concludes it's because Snape had killed Dumbledore, meaning he'd have to kill Snape, leaving before he's truly dead and giving Harry time to collect Snape's memory.
Voldemort speaks loud-speaker style again to them about allowing an hour to help the injured and gather their dead, and if Harry didn't reveal himself, he'd kill anyone to get in his way. Ron and Hermione encourage Harry to ignore Voldemort's terms and focus on a new game plan at the castle. They see the Weasleys at Fred's body, along with Tonks and Lupin's, Harry too distraught to see who else hadn't made it because of him. Instead he makes his way to Dumbledore's office, which still contained the Pensieve, believing Snape's memories could be no worse than what he'd currently experienced and having a temporary escape. He sees Snape as a boy confronting Lily about her magic and how Petunia had been a prude from childhood, and Snape'd struggled controlling his emotions around the close-minded Muggle, Petunia.
James and Sirius had taken a disliking of Snape from their first meeting on the train, Lily torn from the start on liking and disliking both Snape and James. Later on, after Snape'd heard part of the prophecy, he'd met with Dumbledore, whom had shown contempt of Snape for the first time because of his love for Lily and disregarding her new family. Snape is shown attempting to heal the injured Dumbledore after he'd worn Slytherin's ring. The 2 discuss how this'd kill Dumbledore in about a year and how Draco's task of murdering him should go to Snape as Voldemort had dictated. Dumbledore eventually shares with Snape how Harry'd have to be killed by Voldemort before Voldemort could die, because Harry carried a piece of his soul. The last memory is of Snape preparing to leave Gryffindor's sword for Harry to find.
Colin Creevey dies, Harry seeing this after noticing how little time he had left, using his invisibility cloak and passing Neville and Oliver Wood carrying him. He leaves the castle without speaking to anyone, making the leaving easier, but does run into Neville again as he's gone back out for more bodies. He made sure Neville knew to kill Nagini, he going invisible again and not stopping even when he sees Ginny helping someone. He learns how to open the snitch and gets the Resurrection stone, he seeing his parents, Lupin, and Sirius, they walking with him to Voldemort. 2 of the Death Eaters unknowingly lead him there where the rest of the followers, plus a bound Hagrid, whom is aghast Harry'd come. Harry was apparently thinking of Ginny kissing something of his ("—-", not a period.), then gets the green flash.
Harry wakes up feeling alive, but meeting a quite dead Dumbledore, he believing Harry wasn't quite corpse. Dumbledore also reveals how Grindelwald had killed his sis. After some time, they reach the subj. of Harry having the option to live, he ofc choosing accordingly. Voldemort had collapsed, as well, he delegating the task of checking Harry's vitals to Narcissa, she asking after Draco, they then all heading for the castle with Harry playing dead, and Voldemort having Hagrid carry him. Voldemort does his voice boom trick and tells of Harry's kaput inaccurately, then threatens death to anyone who didn't kneel before him.
Ultimately, there's a revolt and Neville kills Nagini with Gryffindor's sword, Harry getting under his invisibility cloak. Once Harry's given shield charms to those on his way to Voldemort, Bellatrix is taken out by Mrs. W and Harry extrapolates how Voldemort wasn't true owner of the Elder wand, he having deduced Malfoy should've gotten it, but when Harry'd taken Malfoy's wand, ownership should be his, now, the wand doing his bidding and Voldemort's death being his own fault. It takes a few beats before everyone celebrates, Harry getting his 2 buds to accompany him to Dumbledore's office as he explains Snape's memories and his plan. Harry leaves the fallen Resurrection stone where he'd dropped it in the Forbidden Forest, he fixing his wand with the Elder wand and deciding to return it to Dumbledore's resting place, Ron shocked, but Hermione understanding, ofc.
19 years later, Harry and Ginny are taking their 3 kids to the station, Longbottom's a Herbology prof, Draco married with a son (obv), and Ron and Hermione with their 2, Harry not having been bothered by his scar since, and quelling the fears of his youngest if he were chosen to be Slytherin, mentioning how he'd get a choice, in the end.
Decent enough, I'll still check out The Tales of Beedle the Bard.